In God Sporting News, Buffalo continues to draw the wrath of the Almighty, Who, for Some Reason, likes Ochocinco.
I first reported on God's dislike of the Bills last year,
when God made Wide Receiver Steve Johnson drop a pass, helping the Bills lose to the Steelers
. That trend continues, as Vince Young (
who once prayed to God that he wouldn't be suspended by the league
) decided he'd rather back up a dog killer than start for the eventual fourth-place AFC North team.
Young's move
caused the Eagles to declare themselves the "Miami Heat" of the NFL
-- so they're clearly aiming for another Super Bowl loss. Keep reaching for whatever is just one level below the stars, Andy Reid.
God, meanwhile, also had his eye on the Patriots* and/or
Ochocinco, who tweeted "God is so Good" after the Bengals traded him to Belicheat's team
. Ochocinco didn't explain his tweet, so it'll be left up to your imaginations --
and the newest NC! Poll!, off to your right there--
--
which team in the NFL constitutes
Hell
?


Ochocinco's tweet suggested that it was
the Bengals
, but is it really? I kind of think of
them
as purgatory.
Whereas, say,
the Bills
might be Hell, because when people leave,
they still don't end up better off
-- just traveling to higher or lower Circles of Hell, -- or the Raiders might be Hell, because, frankly,
have you seen their fans?
Not to mention Al Davis,
Not to mention they just hired that Grandma Cheerleader.
In any event, Buffalo has really done something to anger God, which really seems unfair to me, as
I don't live there
, and I'm being punished,
anyway
.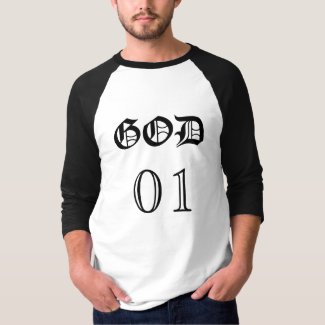 Team GOD
by
brianefp
View other
God T-Shirts