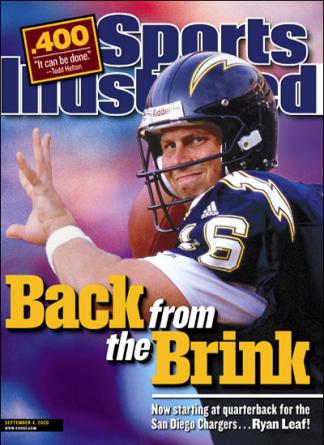 There's this singer out there named "Gotye." His name is pronounced "
gore-ti-yeh
,"
according to this website, which I found by googling
"
How do you pronounced gotye
" and that's the extent of research I'm going to do into that question because it's not really the point of this post.
The point of this post is to introduce the parody of
Gotye
's big hit. The big hit is called
Somebody that I Used To Know
, and it's apparently a big enough hit that it can be parodied for sports fans, who are typically the last to know about anything cool in the pop world...
...which I say seriously; I'm not really a "sports fan" the way people think of sports fans; I'm a sports fan the way
I
think of sports fans, which is to say I like making fun of Aaron Rodgers, who probably doesn't care much about it.
As an example of how unhip sports fans can be, yesterday I had
SportsCenter
on while I read
IO9
on my phone;
SportsCenter
was serving solely as background noise while I read, because I can't stand silence. Leave me in a silent room and I start
hearing
what I'm
thinking
and nobody needs
that
.
So on
SportsCenter
, these two guys -- I don't know who they were so don't ask, but one had white hair and looked kind of like Dennis Farina in
Get Shorty
-- were talking and one said
Radiohead
and Not Really Dennis Farina said "
You think I don't know Radiohead, don't you
?" and the other guy said something dumb and Not Dennis Farina said "
OK Computer is among the best rock albums made by an indie band ever
," and I
instantly
wanted to call up Not Dennis Farina and make several points, which would have been:

1. Name a single song on "OK Computer."
2. Name another rock album by an indie band, and
3. "OK Computer" sucked. I have it. It's awful.
So here is the parody song,
Some Quarterback I Used To Know
The song is sung from the perspective of Denver and Indy fans who've lost their quarterbacks. Just for fun (?) let's parse the lyrics!
Now and then I think about when you were drafted
Just a Volunteer player with a pedigree
Told myself that you were right for the team
But secretly I wanted Ryan Leaf
But I was wrong and you're the best I can remember
At first, I though that
couldn't possibly be true.
Is there a fan out there who wanted Ryan Leaf over Peyton Manning? I wondered. So I went and read an article and it turns out (I hadn't remembered) that Leaf finished 3rd in Heisman voting, behind Manning (2) and Charles Woodson, who won it that year, and it was a toss-up back then as to who was going to be the better quarterback.
I
got
that info from
an article
which talked about how Leaf obviously was the worse of the two choices, even though it wasn't apparent that would be the case, and then went on to say this:
In this year's draft, there seems to no "next Ryan Leaf" concern for the Colts or Redskins. The consensus top quarterback prospects — Andrew Luck and Robert Griffin III — measure up as athletes and young men bound for professional success. There's already the feeling after the Colts presumably take Luck as Manning's successor, the Redskins won't have one ounce of Chargers-like regret when they snag Griffin.
Let's go on:
You can get addicted to a certain kind of success
Like every game was a win, always a win
So when I heard we had let you go
Faith in my team was at an all-time low
But I'll admit the statement you read made me cry
Well, we're on the part where we're talking about Peyton here, and
far be it from me to rain on the St. Peyton's Day Parade
, but "
every game was a win
"?
Ever
y game?
So this song exists in the quantum-event universe created by some minor event that then spun off a world where the Saints
didn't
cripple Brett Favre and then beat St .Peyton in the Super Bowl?
But I know we had to cut you off
You were awesome but your vertebrae just kept on breakin'
Now we've drafted Andrew Luck
Cause watching Curtis Painter was a little bit rough
And even though you ran so slow
You won a ring, broke some records so we'll hang up your number
I guess all Colts become Broncos
Now you're just some QB that I used to know
Oh, is that an
Elway
zing? Take that, Guy Who Did Stuff Back When My Dad Made Me Watch Football!
Now, it's
Tebow Time!
(That's what they'll be saying when Rex Ryan pulls Sanchez in Week 3 after his fourth interception of the game.)
Now and then I think of all the games you screwed us over
Part of me not caring 'cause of all the games you had won
But Elway didn't wanna play that way
Scoring six points every single game
The fans didn't want to let you go
But a four time MVP made you some QB that we used to know

But you didn't have to trade him John
Make out like a playoff victory was barely nothing
And even though we love you Tim
Your quarterback ratings were a little bit rough.
I'll admit that you are good in red zones
But your throwing really sucks and you're a bit of a fumbler
I guess Jesus doesn't like Broncos
Now you're just some QB that I used to know
It WAS an Elway zing! Turns out Elway's getting it from both sides in this song.
He's the real bad guy, here
. I could point out that it doesn't really matter if Jesus doesn't like the Broncos now that St. Peyton's in town, and anyway, Jesus will have his hands full dealing with the blasphemers and sex maniacs on the Jets.
This has been your Indie Song Sports Parody newsbreak. I now return you to your regular Friday afternoon.
EXTRA BONUS INFORMATION:
Paranoid Android
is track 2 on
OK Computer:
Wikipedia
says:
"Paranoid Android" is among the band's longest recorded studio tracks at 6:23. The unconventional multi-section structure of the song was inspired by similarly structured rock songs, such as The Beatles' "
Happiness Is a Warm Gun
" and
Queen
's "
Bohemian Rhapsody
".
[

42

]
The song's musical style was also inspired by the music of the
Pixies
.
[

43

]
Colin Greenwood said that the song is "just a joke, a laugh, getting wasted together over a couple of evenings and putting some different pieces together."
[

44

]
The song was written by Yorke after an unpleasant night at a Los Angeles bar, particularly a woman who reacted violently after someone spilled a drink on her.
[

34

]
Its title and lyrics reference
Marvin the Paranoid Android
from
Douglas Adams
's
The Hitchhiker's Guide to the Galaxy
.
[

43

]
Here's
that song:
And in retrospect, I realized that I meant
Kid A
. I mean,
OK Computer
IS awful, but I was thinking of
Kid A
, which is
REALLY REALLY awful
. It's the
Infinite Jest
of Indie Rock Albums.
(NOT DENNIS FARINA: See if you can deconstruct that joke for me.)