Want to have some fun? Say this to someone from Minneapolis
or
St. Paul (the "Twin Cities"):
"Hey, when will they just admit that's all one big city and cut out the nonsense?
"
I say that to everyone I meet from either Minneapolis
or
St. Paul, and the response is
always
amazing as the person defends the existence of two cities that are so close to being
one
city that they're named
twin
cities. PLUS, people get
really
worked up over the issue, almost as worked up as they get over which sports team they like.
I've mentioned before how silly it is that we like a sports team based on where we are born and arbitrary geographical boundaries drawn in 1787 or some such, and I finally found a kindred spirit in Simon Amstell, a comedian who appeared on
NPR's
"Wait, Wait, Don't Tell Me" and who, when asked about whether he was proud to be British, had this to say:
"I think it's stupid. To be proud of where you come from, it's just where you fall out…'oh I'm so proud to be British or American' you might as well be proud to be Caesarean.."
Simon Amstell is my new hero. And if it's silly to be proud of being born on a specific piece of soil, how much sillier is it to get worked up about a team that is
temporarily
located in the same general geographic region as the one you are currently residing in?
On to the Minnesota Vikings' NFL preview: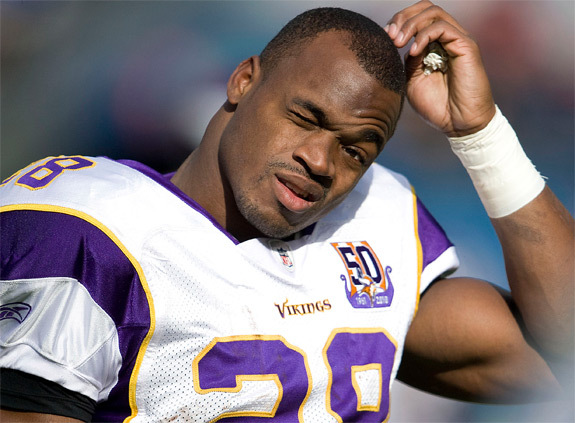 What I Know About Them Without Researching

:

I'm pretty sure the Vikings have a guy named

Christian Ponder

at quarterback. I'm also about 95% sure that they still have Adrian Peterson at running back. Adrian Peterson is, if you ask me, the most overrated running back in the NFL. If you want to know what Adrian Peterson brings to an NFL team, try this:

Stand in your backyard, holding a football.

Drop that football.

Congratulations! You have just imitated Adrian Peterson's contributions to his team, those being (A) fumbling, and (B) not being a visible part of the team when it really matters, i.e.,

crunch time

.

Everyone blames Brett Favre for the Vikings not going to the Super Bowl that year when the Saints had a license to kill because the NFL turned a blind eye to the bounty system it had already warned the Saints about, the NFL wanting the Saints in the Super Bowl to avoid having two teams vying to move to Los Angeles (it's a conspiracy!)(But not the kind Drew Brees keeps prattling on about), but nobody blames the three fumbles -- 60% of the Vikings total! -- and people still think Adrian Peterson is worth the paper he's printed on, or some saying like that.

What Somebody Else Said About Them: Here's ESPN's fantasy football preview of Adrian Peterson

, nicely working in a reference to the Mars lander that nobody at ESPN actually understood or cared about because the Mars Lander doesn't say "

booyah!

"
You don't have to be one of those really amazing NASA scientists who aided in the historic landing on Mars to know that drafting Adrian Peterson this season comes with risk. However, it's not necessary to actually calculate just what level of risk Peterson presents, it's more important to understand how that risk can be parlayed into a championship season.
Let's start with this simple fact: Nobody knows what Peterson will deliver this season.
But they go on:
Our team of experts is projecting a season of 1,321 total yards and eight scores from Peterson.
Did you get that? There's a lot to mull over there.
First, remember:
nobody knows what Peterson will deliver this season
. That's what they said -- but that didn't stop them from hiring a
team of experts
to tell you what Peterson will deliver this season, predictions made on a guy who is recovering from a terrible injury, as a team nobody knows anything about gets ready to play a bunch of games that can't be predicted, either.
I'm sorry I wasted my time reading it -- but not as sorry as the sadness I feel in my soul for people who spend so much time thinking about their fantasy football teams that they want to know that Adrian Peterson is projected, by a shadowy Star Chamber of ESPN experts, to finish 7th in running backs with a hypothetical 177 points on the year.
Or, rather, not
want
to know, but
need
to know,
need
with a desperate wrenching rending desperation and I know I used desperate twice there but how else could I sum it up? There are people out there to whom Fantasy Football is the girl in Wuthering Heights, I want to say Jane Eyre but I know that's not right, and in return they are Heathcliff, whose name I remember because he was named after a cat and I thought that was funny when I read Wuthering Heights, so let's begin again with The Chronicles of Desperate Desperation Analogy:
There are people who are Heathcliff to Fantasy Football's Jane Eyre or Whoever, and they
need
to know how Adrian Peterson will finish this year or they will hurl their weakened, need-ravaged bodies off the cliffs of Wuthering Heights into the sea below, never to love again (because they are dead).
And I am sad for those people, whose half-lives I cannot even imagine beyond poorly-remembered Bronte analogies.
But this, too:
a team of experts
. I find it remarkable to think that we are somehow in a recession in a country where we not only employ people to work as Hot Wheels' Track Designers (you
know
that has to be an occupation because those things aren't just dreaming themselves up) but also where people can find employment as a team of experts on a fantasy football preview, an "
expert
" on a subject that is thrice, if not quadrice, removed from any real meaning in the world.
Or, to put another way: USA! USA! USA! Forget tearing apart Medicare, Not-Going-To-Be-VP Paul "Candy Man" Ryan. We will fully fund it by having people voluntarily contribute $5 per fantasy football tip.
What 1980s One-Hit Wonder Song Accurately Exemplifies The Vikings This Year?
I'm going to say the Vikings will go 8-8: comfortably mediocre, giving their fans something to cling to until Christmas takes over, but not anything worth caring about if you live outside of MinneapolSaintPaulis. (Send whining emails about the differences between the cities to
paulryanbenefittedfromgovernmentlargesshiswholelife@hypocrite.com
)
The song, anyway, is
Sugar Don't Bite
by Sam Harris, a guy you've never heard of, either, but if you go by
his obviously-self-written Wikipedia entry
, Sam Harris is a force of music the likes of which you can only imagine, and then, after imagining the Greatness That Is Sam Harris, you can be thankful to the Gods of Music for letting him bestow his glory on us via songs like
Sugar Don't Bite
.
If you did not watch the video, you are doing yourself a disservice, because the video made me say to Sweetie, as I watched it, "
I can't believe the 80s existed
," but they did, and Sam Harris' video captures exactly what it was like to live in the 1980s, as shown by:
A. The ability to look up a woman's dress in a bar after dropping one's sunglasses without getting sued for sexual harassment,
B. White suits featuring glittery vests underneath, worn
sans shirt
,
C. Fight-dancing in a club filled with people who are inexplicably dressed as extras from Olivia Newton John's
Physical
, and
D. Glittery Chuck Taylor Converse shoes which we all wore in the 1980s, even Caspar Weinberger.
Sam Harris won
Star Search
singing
Over the Rainbow
and then went on to dominate the music industry for decades -- it's not
his
fault you haven't heard of him -- and more recently began changing the world
directly
with his music, as shown by this actual quote from that Wikipedia page:
On February 12, 2008, he released a new single entitled "War on War" that became an internet phenom with music videos made by the general public. The song became a part of his album, "Free," which was released that summer. The single "Change Is On The Way" was written to support the Obama campaign and was heard on numerous television shows and behind internet videos around the time of the election. In 2010, Sam wrote and released "My Reclamation" - which has become the anthem for marriage equality.
You remember that internet phenomenon, don't you? And why do you think Chick-Fil-A had to up its war on gay this year?
Because Sam Harris had practically won the war with his song
, that's why.
Don't mess with Sam Harris, is the point, I guess. Lest you be fight-danced into submitting to his awesome charisma, which is so powerful it can end war and bring marriage equality to all, and also so powerful that Sugar did not, in the end, bite.
Previously:
St. Louis Rams
Indianapolis Colts
.