I found myself oddly compelled to keep checking the scores on the Packers-Colts game yesterday, even though I was not watching the game, hadn't intended to watch it, and was only taking a break from the
Evil Whale
game Mr Bunches and I were playing at the swimming pool.
(For the record:
I
am not the
Evil Whale
. I am the guy who captures Mr Bunches and puts him
in
the Evil Whale, from which he then escapes for more chasing fun.)
The game I
intended
to watch this week hasn't happened yet: I set my DVR to tape tonight's Texans-Jets game, mostly because none of the other games available in my area seemed to be worth watching at all.
I had a choice of watching the (then) 2-2 Packers go up against the then (
I-don't-care
) Indianapolis Colts with Andrew Luck-- Luck is right now 25th in quarterback ranking, 32nd in completion percentage, 14th in yards, and 12th in touchdowns. He's thrown as many 20+ yard passes as Ryan Tannehill, which I throw in there to point out that Luck's a rookie, sure, but so is Ryan Tannehill and he plays on a team that was equally dismal -- and for longer.
Or I could watch the Vikings-Titans game, which was broadcast in our area in lieu of the game I
wanted
to watch, which was Bills-49ers, because I hoped at the outset that the Bills might be able to keep up with the 49ers. I hoped that the 49ers were maybe not all that good (
they lost to Minnesota, who are not all that good!
) and that the Bills, despite my belief that they are a 6-10 team
if they get lucky
, might get lucky.
But that game wasn't televised, the 45-3 score justifying the rest of the world's predetermination of what was going to happen, and so I've set tonight's game to tape but to be honest I probably won't watch.
I did, though, as I said, check in on the Packers game: After taking the family on a walk through the Arboretum at noon -- a great time to get out and do things, if you live in Wisconsin; people in Wisconsin are so reluctant to tape-delay a football game (
maybe people everywhere are?
) that if you are familiar with the workings of a DVR and able to keep off the Internet for a few hours, you are able to have the state to yourself during Packer games -- after that walk, Mr Bunches wanted to go swimming and so I said I'd take him over to the pool on the other side of town, the one with the slide shaped like a whale... an
Evil Whale
... and so I listened to the game on the way over there, on the radio.
When I first turned the game on, the Colts had just made it 21-10 in the third quarter; things seemed well in hand for the Packers, and as I drove, I sort of tuned out the game until the Colts made it 21-13. And then 21-19, just before we pulled up to the pool.
That was when I realized
I wasn't rooting for the Packers
. I mean, my body must have known it because when the Colts scored to make it 21-19, I sort of fist-pumped a little and thought
"Yeah
."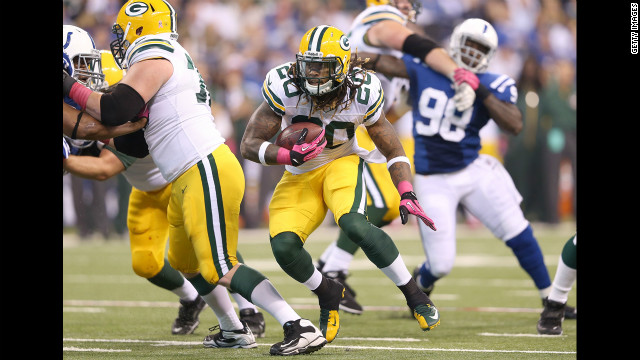 After that, I swam with Mr Bunches while I periodically checked my phone on the
amazingly
slow-loading NFL.com until I gave up on NFL.com and instead went to ESPN, which was not much better.
NFL.com, if you are following a game, will annoy the
tar
out of you because it will insist on loading up that video and the game-screen and give you highlight videos and, as a recent
Slate
article pointed out, a lot of people (possibly most) people no longer surf the Internet on a computer that can handle all those graphics loading. We use phones and Kindles and iPads, and because websites are designed for laptops, mobile devices are slow to load them. I can't get Deadspin on my Kindle, at all, and I refuse to use their terrible terrible terrible app interface, the
Read-It
app or whatever stupid thing it is that makes you click an article, then click the teaser for the article, then click the article again before it finally haltingly loads. I won't do it.
Anyway: I watched the Packer scores until Indianapolis went ahead with less than a minute left, silently thought
Yeah, take
that,
Green Bay
, and then went back to swimming with Mr Bunches before heading home to listen to the Bills throwing away a game that at 2:00 before the end of the first half was 10-3.
I also watched and listened to and read some other stuff
the first of which was this song:
That's either
the song "Dark Parts" by Perfume Genius, or it's the song Perfume Genius by Dark Parts.
I can't tell anymore which are the band names and which are the song names, which is why society should have adopted my suggestion that all band names start with
The
, so we could have
The Perfume Genius
, or
The The Beatles
, and so on.
I heard this song on a commercial while I was getting ready to go to the Arboretum with the family: I'd gone to get dressed and put on the NFL Network while I was doing so, and during the 2-4 minutes it took me to comb my hair and get my old-school Bruce Smith Bills jersey on, all I saw on the NFL Network was commercials.
Annoying.
I'm not against commercials: I'm heavily
for
them, as you'd expect from someone who tried to sell ads in his books. But networks have to remember that people will not sit through 2-4 minutes of commercials, and advertisers have to remember that people want
variety
in commercials. If people thought more about commercials, people would think more about commercials, is my motto. So: networks? Put no more than about 1 minute's worth of commercials on at a time. Advertisers? Make your commercials be less repetitious: After a month, at least, you should retire the commercials.
I think
Flo
from Progressive highlights how commercials should work. I rarely see the same
Flo
commercial for more than a week or so, and then they're gone. That's about how long it takes to go from
"that commercial was kind of clever
" to "
Oh my God I'm going to save up all my money to go into venture capitalism just so I can buy Progressive and break it into its component parts and sell them off and put these people out of work.
"
The shelf-life of a beer commercial is considerably less: I haven't seen a beer commercial that I didn't get tired of before it ended in
decades
. As I get older, I expect to get annoyed with beer commercials several days in advance of their airing.
I also read, yesterday morning,
the SF Weekly's story on Bleacher Report
-- a story I got to by by of Deadspin, which I had to read on my kids' iPad as I ate breakfast.
The story, "Top 5 Ways Bleacher Report Rules The World!"
is amazing for a lot of reasons: first off, it shows that there are thousands and thousands of people out there who want to do sports writing and who want to do it so much that they will work for free and provide tons of money to people at the top of Bleacher Report.
Apparently, your average B/R writer gets told "
here are some headlines that'll grab attention, now write a story about them
" and when the writers do, the story might go up on the site and get the writer a badge or link. Eventually, writers who get enough hits and badges and whatnot might become featured writers, earning as much as $600 per month to write sports.
I rarely divulge details of how much I earn writing, but I will say this: When I started this blog, long ago, it was the first of my blogs I put advertising on and in the very first year that I did that, I made enough off of ads to buy a new stove for our house and take our family on a 4-day trip to Florida including Sea World
all off my blog money
.
Bleacher Report isn't
terrible
for what they do: the stories (which I sometimes read) are designed not to be informative but simply to grab headlines and thus Google rankings, and the latter part is more telling than the first: the web is
full
of writers who want to work for nothing, or next-to-nothing, in hopes that someday someone will recognize them and
Diablo Cody
them and they will then be able to write full time for pay, instead. It's happened to that lawyer who ran the sports website, it happened to James Erwin, who was the latest fanfic writer to get a movie deal off his lunchtime postings,
writing a story on his break about how a bunch of US Soldiers took on a Roman army and getting a movie deal out of it
, and it could happen to
you!
Maybe.
More important to me is that a bunch of Bleacher Report guys figured out how to make sure their stories turn up at the top of Google, almost every time. They've got a whole
team
of people doing
that
-- focusing more on putting their stories on Google than making the stories
good
.
Google any sports story -- let's try
packers lose to colts
-- and this is what you get:
The
Bleacher Report
story is first. Ahead of
NFL.
com's, and way ahead of any Packers site or Colts site.
That story, when you click on it, follows what SF Weekly says is part of the lure -- a provocative headline "
After Loss To Colts, Are Packers Toast In 2012
?"
and a short aggregated story that asks you to provide an email and sign-up for a newsletter.
Does
Bleacher Report
work? Depends on who you ask: I subscribe to the feed for a couple of teams that I like to follow, in part because it's quick to load and in part because Grantland has no mobile app and Deadspin's is so terrible that I can't stand it, but I rarely read the articles, and I
loathe
slideshows.
On the other hand, it's first and
the owners just got paid $175,000,000 from Turner Broadcasting, which bought the site.
So it works amazingly well, from that perspective, the perspective of someone who wants to get paid $175,000,000 and never have to work again, and that suggests that those sportswriters who want to make it up to the $600 per month gig would be better off starting up their own sites and figuring out a way to make
themselves
higher on Google, which is what I think is the
real
reason that Turner bought Bleacher Report: Google is supposed to be uncrackable, very hard at the best to optimize results on, and yet Bleacher Report manages to do it
almost every time
.
At least for the stories people care about: A quick search showed no top-page B/R results for
Bills lose to 49ers
or
Brees sets record
, but B/R did get front-page on
Tebow jets
.
Bleacher Report
is just the
Huffington Post
of sports -- an army of people who want to do something but still need to work for someone else (
Bleacher Report
is claimed to forbid its writers from breaking news) -- and a bigger army of people guaranteeing you'll see it first.
Which means that in the end, we still have people choosing what we see: In the olden days, network executives and movie studios determined what we'd see, when we'd see it, and how we'd view it. Now, though, we can publish our own books and make our own videos and create our own software -- but there are teams of hidden star chambers out there who are figuring out how to put
their
stuff at the top of the list, and making sure you never see
my
stuff, or
your
stuff. They're too quick to figure out that people want to talk about
Tebow and the Jets
today, and too able to put up 1,000 articles that are all hyperspiderlinked or whatever to combat with my thoughtful essay on sports viewing that
also
mentions Tebow.
The only way to get around that is to figure out ways to make sure you know what people want to see, in advance -- to be able to predict that not only would I
like
to see the Colts beat the Packers, but that they
will
.