post... like how I worked that in there?... and at the time, remember, I was getting ready to release a phenomenal new horror story,
which I am
sure
you already have bought, but, you know, in case you didn't,
here's a link to Amazon, where you can get this incredible gothic horror novel for just $0.99
!
And as I was getting ready for that release and setting up a blog tour, I had wondered -- my insecurity at the time -- whether it would say something about the quality of my writing if people didn't buy the books even though I was doing this marketing push.
OK. That's the recap! Now it's two months later and I am ready to discuss how the blog tour actually affected the sales and whether it was worth it, in the long run.
The tour was over 10 blogs, with me writing part of a short horror story at each stop, changing the plot based on reader and blog-host suggestions; the resulting story, "This Is How I..." eventually involved a decapitated Stephen King, a many-tentacled monster, an other-worldly Cthulu-like monster, a wisecracking spider-venom created clone, Betty White, and Snickers, so now you know that people along the tour were completely insane. Also, the story was incredible. I'll collect it up here one of these days for reading in whole, so make sure you visit this blog three, maybe 70, times per day.
OR, hire a team of adorable youngsters to monitor this site around the clock.
The tour was a lot of work -- it's actually more time-consuming than I thought to write on a schedule like that, let alone make sure that there are posts telling people at previous blogs to catch up to the latest, etc., especially if you don't want every post to be the exact same.
To help spur sales, I thought I would finally do something that I've seen other writers do: Make the book free for a couple of the tour stops. Amazon will let you do that for five days out of every 90, and there were 10 days on this tour, so I threw in other books as freebies from time to time.
ADMITTEDLY, it may not seem immediately logical that by charging nothing for books I hoped to make money, but you know the old saying: You've got to lose money to make money.
"I don't... that doesn't sound... my head hurts!"
So did it work? Let's look at the numbers!
The tour began on Friday, 9/13 -- the choice of Friday the 13th was entirely accidental, and I completely failed to capitalize on that release date for a horror novel
So here are my book sales numbers for the months BEFORE 9/13:
In July, I sold... One copy of my book "Do Pizza Samples Really Exist? And 117* Other Ways Of Looking At Life (*Give Or Take)", which is a collection of essays that you can also buy for just $0.99!
This probably is not the last ad you'll see in this post. JUST BUY SOMETHING SO HE'LL LET THE COPYWRITING STAFF GO HOME! WE'VE BEEN STARING AT THESE COMPUTERS FOR HOURS! THAT'S RIGHT, WE'RE THOSE ADORABLE KIDS FROM UP ABOVE! HE MAKES US DO THESE CAPTIONS! EVEN WHEN THE PICTURES ARE ENTIRELY AGE INAPPROPRIATE!
Then, in August, I had, as I mentioned in my last ISWG post, ZERO sales. (YAY FOR CAPITALISM!)
S0 then in September, things DID take off.
In the US alone, I sold
6 copies of Temporary Anne, plus 1 copy each of Up So Down, The Scariest Things, You Can't Imagine, the After, and Just Exactly How Life Looks. Inexplicably, I also sold four copies of my Xmas scifi/humor book, "Santa, Godzilla & Jesus Walk Into A Bar," a/k/a The Greatest Xmas Story Ever Told (By Me)."
You know, because nothing says "Xmas Cheer" like "raking the leaves in Late September."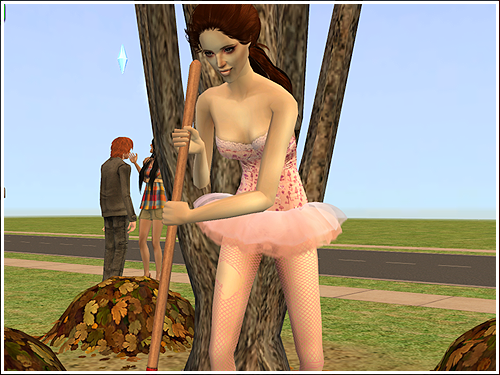 Google "Jesus Raking Leaves," and you'll find this image. I don't understand religion.
Those numbers are slightly higher than average for the year -- while sales were down in the summer, my average is about 1-3 books per month, for each of my books.
And what did I have to do to get those numbers? Here's how many
free
copies I gave away:
The Scariest Things, You CAN'T Imagine:
142
Eclipse:
131 (Note that I
sold
no copies of
Eclip
se in that month).
Temporary Anne:
113.
the After:
94.
Yes, you read that right: the book that I was
actively promoting
came in
third
in
free downloads
.
I should note that the blog posts were not the
only
way I was promoting these books. I also had posts on my blogs, and I actively used Twitter: I have four automated tweets per day, about four of my books. Four is the most I figure should be on a Twitter account during the day, because if I see people doing too many ads for stuff, I unfollow them. I don't mind ads -- I do them on my blogs and Twitter -- but I don't want anything to be
all
commercials.
So on Twitter, though, on the free-book days, I did a bunch more - -usually 5-10 different tweets with a link to downloading the book for free. Did that help? I have the same number of Twitter followers, more or less (about 588), so nobody got too annoyed and unfollowed me (or I got followed and unfollowed in equal numbers), and maybe Twitter's farther reach helped me get overseas sales: In the UK, I sold 5 books and gave away 33, and I gave away 19 copies in other countries (with no sales).

Perhaps if I had gone with this alternate cover for the
overseas edition?
On the one hand, you might say that with an average of $0.35 profit per book, giving away several hundred might have cost me $70 or so in sales, but remember, that wasn't the point.
Wait, the point WASN'T to make money? I don't get publishing.
The point, Mr. 1950s Guy, was to generate
buzz
and introduce people to my writing to see if that would spur
other
sales: get me reviews, maybe get me onto Amazon's Hot 100 list one day (I never did make that list.)
So did THAT work?
In word,
That word is "No," for you people who are a little slow on the uptake today.
In the month or so SINCE the tour ended, I have sold...
TWO books.
So, double the sales, right? YAY FOR MARKETING AND CAPITALISM.
I'm turning socialist.
Anyway, that's the update on the blog tour and/or the quality of my writing. And I don't think that it's the writing itself that is suffering: I think the problem is that I'm
still
not marketing it right. The actual lessons I learned from this tour are:
1. The quality of the writing is important to ongoing readers
, so if you have a good story and good editing that'll maybe get people to buy a
second
book. To that end, I think that the comments on the quality of my writing were okay: I got a positive review from a total stranger about my book
Eclipse
, and each day of free books resulted in at least 1-2 sales of a non-free book the next couple of days. I also had
no
refunds of books, so people were not dissatisfied with either the free or written books.
That's all to say: nobody knows whether you're any good until they read one of your books, so quality of writing is important to second sales.
2. A blog tour shouldn't require reader participation.
Really, every lesson I learned on this tour could be summarized as "
You are weird, Briane
," which is my insecurity for this month -- how come I'm so unlike other people? -- as things that
I
like are not the things that
everyone else in the world likes
. My tour was designed to get people to leave comments without resorting to that hokey "
What do you think?
" question at the end of posts -- I HATE THAT, almost as much as I HATE PEOPLE WHO FAVORITE A TWEET INSTEAD OF RETWEETING IT.
Honestly: why do that? FAVORITING DOES NOTHING. If you are on Twitter, retweet stuff! I retweet almost everything I see from a select group of loyal readers. You should do that.
Anyway, where was I? Oh, yeah: Turns out that many people DO NOT WANT TO HELP YOU WRITE A STORY. Go figure? I thought we could get someone to do that work for us?
SAVE US!

Which leads to
3. I think people really hate serialized stuff on the 'net. I've been a longtime supporter of serializing stories: I have serialized whole novels, but this idea for a blog tour -- which was supposed to pull people from blog to blog AND lure in new readers from each blog visited-- absolutely failed to do that.
Instead, a small corps of people followed from blog-to-blog, and new readers failed to materialize. Is that a comment on the story? I don't think so.
(I DO NOT NEED MORE INSECURITIES OKAY?)
Instead, I think it's a comment on the fact that if you regularly read, say, Lara Schiffbauer's blog or Andrew Leon's or Rusty's, etc. I can't name all of you all right? YOUR CHECK IS IN THE MAIL*
*You're not getting paid I lied
Anyway, if you regularly read those and I show up one day with part six of a story that requires you to track down through 5 other blogs you've never read just to figure out what the heck is going on, you're NOT GOING TO DO IT.
See, I might do that, but, as I've come to realize, I am not other people, and it turns out that other people do not like being given homework assignments when they're surfing the Internet.
SO REALLY, my insecurity for this month ought to be "I have no idea how society works, but I'm learning so give me another chance, would you?"
Anyway: Live and learn and make $0.70 in royalties for all that hard work! See you next month!
-\

So I'm not getting paid, either? This job blows.




AS LONG AS YOU ARE HERE, MAYBE CHECK OUT SOME OF MY OTHER STORIES ON THIS SITE? There's an index page tab up there. You could bookmark them and read them later! Maybe print them and take them home? Am I coming on too strong? I always do that.